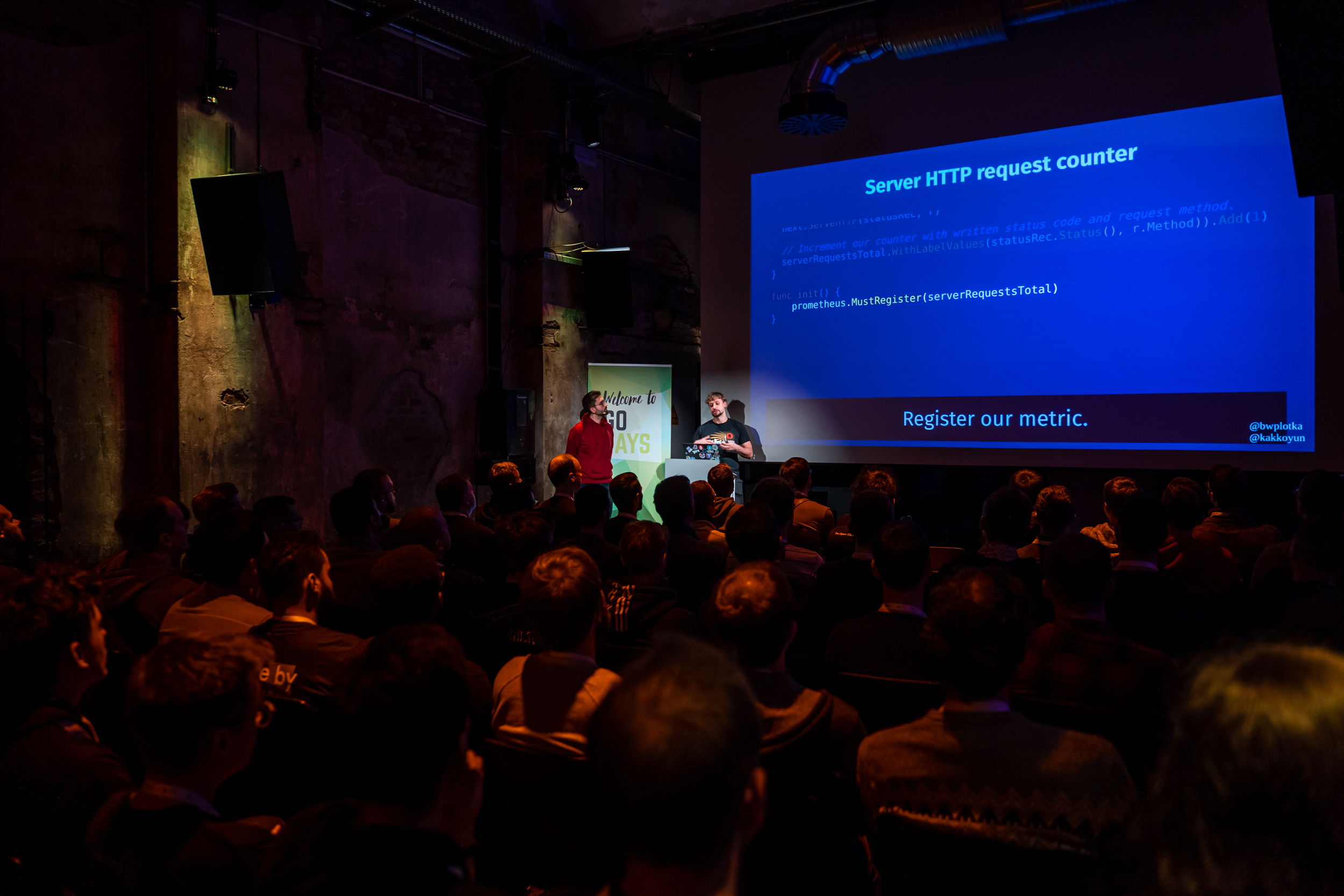 Hi! 👋
My name is Bartek (full name is Bartłomiej). I originate from Poland, precisely from the city called Gdańsk, but nowadays, I live and work in London, UK.
I am a curious and (bit too) ambitious human who happened to dive very deeply into software engineering waters. My first dev job started in 2012, and since then, I have enjoyed delivering challenging projects, together with many awesome people I met on the way.
My main focus was always building and running software in web/backend/distributed systems/infrastructure areas. Even though I have ongoing experience as a global-scale SRE, I love development the most: I love building pragmatic, innovative, scalable, high-quality solutions.
I worked at Improbable, a fantastic gaming UK startup with a global Kubernetes infrastructure using and developing impressive and unique systems. In late 2017, we created Thanos project with Fabian Reinartz, which gained popularity as a default choice for scaling Prometheus. That started my shift to work entirely on open source around the Prometheus ecosystem, becoming a Prometheus maintainer and working as Principal Engineer at Red Hat. 🚀
In 2022 I published my Efficient Go which spawned out of the need to teach others the pragmatic efficiency skills I learned in my career. I hope this will trigger even better quality (and cheaper to run) Go projects in the future! (:
I love innovating, mentoring, teaching, speaking at conferences and working with communities, especially around Observability. That's why at some point, we created the CNCF Technical Advisory Group (TAG) for Observability, where I am performing a technical leadership role.
I also try to mentor others a few times a year and motivate others to mentor in the CNCF programs. So if you would like to be a mentor and help to grow the next generation of open source engineers, let me know! I am incredibly grateful to those who helped me to be where I am. Thus IMO, we all need to give back sometimes.
The rest of my time is reserved for my beloved wife & family, gym, ~volleyball~ (ACL+MCL injury) and sometimes not-eco-friendly cars (:
Feedback
I am always looking forward to hearing feedback! (:
Especially if you feel angry with what I say or do, I would love to hear that. This way, we all learn! Reach me through any channels listed on main page.
CV
Let's just reuse stuff, shall we? (: My is CV is available on Linkedin: linkedin.com/in/bwplotka/
Open Source
I love innovation in SWE space. This is why you see me creating, but also maintaining various projects. Some of them I created or co-created, some of them I joined afterwards. Not exhausting lists are provided below.
More popular ones: Thanos, Prometheus, core, Demo Navigator, prometheus/client_golang, e2e, go-grpc-middleware, bingo, mdox, mimic, jiralert
Other: my, oidc, go-jwt, go-tokenauth, kEdge, grpc-proxy, go-k8sresolver, promeval
Public Talks
Some talks I performed (or co-performed 🤗)
| Title | Event | Location | Month | Links |
| --- | --- | --- | --- | --- |
| Running the Observability As a Service For Your Teams With Thanos | KubeCon NA 2022 | Detroit, US | 10.2022 | |
| Clouds are Not Free: Guide to Observability-Driven Efficiency Optimizations | P99 Conf | Virtual | 10.2022 | |
| Clouds are Not Free: Guide to Observability-Driven Efficiency Optimizations | Sphere.it Conf 2022 | Kraków, PL | 09.2022 | |
| Story of Correlation: Integrating Thanos Metrics with Observability Signals | KubeCon EU 2022 | Valencia, Spain | 04.2022 | video |
| Fleeting Metrics: Monitoring Short-lived or Serverless Jobs with Prometheus | KubeCon EU 2022 | Valencia, Spain | 04.2022 | video |
| What Is the CNCF TAG Observability and How You Can Join Our Effort! | KubeCon EU 2022 | Valencia, Spain | 04.2022 | video |
| Optimizing Go for Clouds | GopherConUK 2021 | London, UK | 10.2021 | video |
| Evolution of Metric Monitoring and Alerting: Upgrade Your Prometheus Today | KubeConNA 2020 | Virtual | 11.2020 | video |
| Observing Cloud Native Observables with the New SIG Observability | KubeConNA 2020 | Virtual | 11.2020 | slides, video |
| Absorbing Thanos Infinite Powers for Multi-Custer Telemetry | KubeConNA 2020 | Virtual | 11.2020 | slides, video |
| Prometheus: Shaping Metric Monitoring in 2020 | KubeConEU 2020 | Virtual | 08.2020 | slides, video |
| Sharing is Caring: Leveraging Open Source to Improve Cortex & Thanos | PromConNA 2020 | Virtual | 07.2020 | video |
| Optimizing Go for Clouds: Practical Intro | LondonGophers Meetup | Virtual | 06.2020 | video |
| Are You Testing Your Observability? Patterns for Instrumenting Your Services | FOSDEM 2020 | Brussels, Belgium | 02.2020 | |
| Thanos: Prometheus at Scale! | DevConf.cz 2020 | Brno, CZ | 01.2020 | slides, video |
| Are You Testing Your Observability? Patterns for Instrumenting Your Go Services | GoDays Berlin 2020 | Berlin, DE | 01.2020 | video |
| Thanos Deep Dive: Inside a Distributed Monitoring System | KubeCon EU 2019 | San Diego, USA | 11.2019 | slides, video |
| Two Households, Both Alike in Dignity: Cortex and Thanos | PromCon EU 2019 | Munich, DE | 11.2019 | slides, video |
| Thanos - Transforming Prometheus Monitoring to a Global Scale in Seven Simple Steps | CloudNative PL | Warsaw,PL | 09.2019 | slides, video |
| Thanos - Transforming Prometheus to a Global Scale in Seven Simple Steps | GrafanaCon2019 | LA, USA | 02.2019 | demo materials |
| Thanos - Transforming Prometheus to a Global Scale in Seven Simple Steps | FOSDEM | Brussels, Belgium | 02.2019 | demo materials |
| Brief Intro to Prometheus | Prometheus Meetup | London, UK | 11.2018 | slides |
| Thanos - High Availability and Long Term Storage for Prometheus Metrics | OSSummit | Edinburgh, Scotland | 10.2018 | slides, video |
| Thanos - Prometheus at Scale | CloudNative | London, UK | 09.2018 | slides |
| Thanos - Prometheus at Scale | PromCon 2018 | Munich, Germany | 08.2018 | slides, video |
| Thanos - Prometheus at Scale | Prometheus Meetup 2018 | London, UK | 01.2018 | slides, video |